The 128 Corporate Alliance was formed in 2009 to address concerns that, infrastructure challenges were not keeping pace with the growth of the businesses along the 15-mile stretch of Route 128 from Burlington to Weston, including Waltham, Lexington and Lincoln.
The Alliance's goal is to unite business, regulators, local communities and utilities to address issues facing the 128 corridor from the Mass Turnpike to Route 3.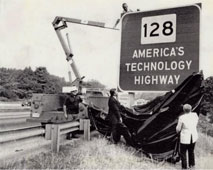 The Alliance represents regional firms employing more than 5,000 workers including Raytheon, Mass Medical, and National Grid, among others. The membership is supported by a leadership team with significant development and public policy experience. See all members here.
The Alliance supports the overarching goal that "quality of workplace" is of paramount concern to member firms and their employees.
The Alliance has identified three key objectives that will guide its efforts:
To offer a forum for exchanging ideas and enhancing the quality of the workplace for area companies and their employees.
To offer a focus on issues and challenges for companies located along the interstate in Waltham and neighboring communities, in contrast to the broader needs of businesses throughout the region.
To provide a platform for communicating these issues at the local and state levels.
The Alliance membership has identified three key issues that affect all the businesses along Route 128:
Traffic and transportation alternatives along Route 128 from Burlington to the Mass Pike.
Reliable municipal services including water, sewer, electricity and pedestrian access.
Emergency planning and management to avoid catastrophic traffic issues like those that have occurred in the past due to weather or public safety activity.
The Alliance welcomes new partners. Become a member!